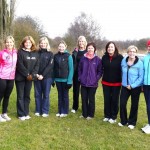 Sunday the 30.01.2011 was the first day of our team Moonwalk training with 12 of us officially through and 2 more joining training for the fun!
We had a 1 mile Power walk assessment of the group after a 0.5 mile warm up and completed 3.66 miles total for Week 1.
26.2 certainly looking achievable in under 6 hours by the event date.
It is still early enough for anyone who wishes to join in our non profit to me £3.00 fundraising walks every Sunday at 2pm.A great simple way to improve your fitness levels and reach a challenge and have some fun in 14 weeks.
CHECK OUT OUR WEEK 1 TRAINING PLAN AND EACH WEEK I WILL POST A NEW ONE FOR YOU TO FOLLOW
Introduction
Hi, Welcome to Playtex Moonwalk Training WEEK1
You will receive 15 custom made Moon Walk Marathon Training Programme from me, Gail Abbey Personal Training.
We will be meeting every Sunday for our group training Charity Moonwalk session but you will need to follow a programme to help you successfully optimise your fitness safely to achieve your 26.2 miles Power Walk.
My Programme is designed to strengthen and create flexibility specifically for the Moon Walk.
The strength and flexibility session is necessary 3 x week 1
A You Tube Video will follow in the next couple of days to enhance your technique.
HAPPY TRAINING!!!
Warm Up
Cardio Program
Activity Intensity Duration Comments
Walking Steady Pace 18 to 20 minute miles for 3 miles SUNDAY GROUP TRAINING WEEK 1
Walking Steady Pace 18 to 20 minute miles for 3 miles TUESDAY WEEK 1
Walking Steady Pace 18 to 20 minute miles for 3 miles FRIDAY WEEK 1
Summary Of Program
Activity Type Sets Reps Duration Tempo Intensity Rest
Lunge – Forward Exercise 2 15 – SLOW – 30 SECONDS
Bridge – Floor Exercise 2 10 – SLOW – 30 SECONDS
Cobra – Floor Exercise 2 10 – SLOW – 30 SECONDS
Basic Squat Exercise 3 20 – SLOW 30 SECONDS
Calf Raise – Standing Exercise 3 20 – SLOW – 30 SECONDS
Hamstring – Lower, Lying Exercise 1 1 40 SECONDS SLOW RELAXED
Hip Flexor – Kneeling Exercise 1 1 40 SECONDS SLOW RELAXED –
Side – Crossed Leg Rotational Exercise 1 1 40 SECONDS SLOW RELAXED