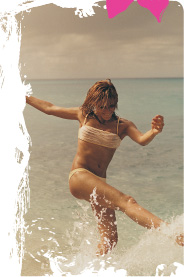 1. Research different types of fitness and find the perfect one for you. Buy the local paper and find your local gym or studio and book yourself a complimentary induction. Check out community classes. Google running clubs and try a salsa class. Or just simply start a walking plan.
2. Empty and re stock those food cupboards of unprocessed, natural foods and drinks and ditch the kids biscuit cupboard too. Why do you need that one, we know the kids actually don't!
3. If you have absolutely no motivation to get started alone, then hire a personal trainer or find yourself a like minded training buddy, but be careful which buddy you choose,don't make it your party partner or it could be a detour to the local!
4. Get out your skinny jeans or that favourite outfit that you would love to get back into…there is only your willpower standing between you and them.
5. Get some reading matter to help keep you motivated. Its always fantastic to hear other peoples success stories and makes them so much more real to all.
6. Sort out your time plan.. look and see where you are able to fit in these exercise sessions and pen them in the diary NOW!
7. Speaking of diaries go and buy another diary to keep a log of your food and exercise. It keeps you on track and provides you with a record of how you achieved your summer bod success. ps. Its so much harder to write the words 3 glasses of wine and a choc terrine than pressing it on your app!
8. Recruit your support. Call on friends and family to help keep you on track, maybe you are short on time and they could have a healthy dinner prepared for you or they could all join you to keep your lifestyle active.
9. Make a list of your goals, maybe its just toning you require or you want to also run the race for life. Whatever your goal, break it down into realistic small targets and reward your self along the way at 4.8 and 12 weeks with a new training kit, a facial or whatever does it for you.
10.Make training accessible and fun.You are on to a winner if you fall in or out of the door straight into your training sessions, travelling far can often be a time barrier. There are so many methods of training and I will be posting these methods over the next 12 weeks.
GOOD LUCK LETS GO!!
Gail Abbey Personal training will be offers an on line 12 week summer bod training package complete with nutrition plan and video. . Fill out the contact enquiries page to receive further details.