In January I decided to get a team together for the London Moonwalk a 26.2 mile walk in aid of breast cancer.
A fun group of 10 ladies joined my team and one of those was Karen Hughes.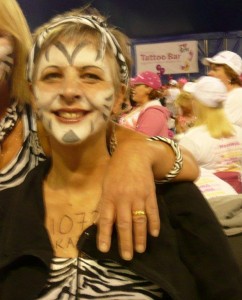 On consultation Karen informed me that she was in recovery from recent breast cancer ops and had a desire to join the group but felt apprehensive about her capabilities, as the cancer and treatment had left some breathing difficulties and a low immune system.
During the first couple of weeks of training Karen was understandably nervous as I explained to the team that the distance of 26.2 miles should be given respect and training would require a good level of commitment to complete the challenge and remain injury free and optimise not deplete health and fitness.
Early on in training Karen experienced brief anxiety attacks which made her breathless, this I explained was due to her own self confidence and I believed it was a challenge that was certainly achievable and with Doctor's permission would be good for her.
Karen totally took on board all the advice of correct hydration and nutrition and followed strength and flexibility programs doing the 'homework' that I set each week.
The training 'glow' very quickly kicked in . The other members of the team and I were inspired at the changes each week with Karen. She started to bounce into the Sunday training earlier than the others and had a buzz of energy.  Karen started to shine in confidence and the steady progression of her fitness levels  became inspirational to all the team, which was a great help as we each had a challenging week throughout the 17 weeks of training.
On the day of the Moonwalk, Karen was nervous as was the rest of the team but as soon as the power walk started her focus began and she contributed massively with words of motivation to the success of the whole team on the day.
It was a fab experience for all concerned and some great friendships were made and I can honestly say that the results of a carefully  structured exercise plan for rehab and recovery are amazing.
Well done Karen you are a star and here's to our next fitness challenge   xx