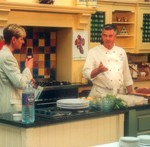 I am always being asked for ideas of easy to prepare foods and snacks that tick the clean foods box and have had the pleasure of discussing and sharing the expert knowledge of Restaurant owner and T.V chef. Simon Smith.
Simon is THE most passionate and dedicated chef I have ever met, (and I have a long history with catering and events) He is constantly working with a variety of experts in foods and nutrition and is currently working on amazing projects.
During October Simon will be sharing some of that knowledge with you at my studio. The Fitness Clinic
Demonstrating how to prepare those Super foods into a super dish in minutes and keep you and your quest for health and fitness on track…with no sacrifice on taste.
http://www.simonsmith-chef.com/
Dates and prices soon to be announced..
But if you are interested mail me now and I will reserve you a place. Limited availability.
Having been a personal trainer for many years I come across clients with many health issues and and stressful lifestyles.
People come to me as they want to adapt to a healthier lifestyle, learn what foods to eat, what exercises to do for a flat tum and many more reasons.
So I am always constantly researching things to assist my work to achieve a clients overall health, mentally and physically, externally and internally.
To accomplish this I am building a team of experts around my business who I can work with who are also passionate to share their knowledge of therapies, nutrition to enhance Total Body Health.