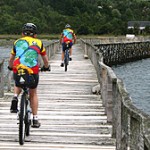 Like everyone else these days I have very busy lifestyle, my own business,four boys to keep checks on, I have to do the workouts, manage the house, not enough hours in the day.. you know what I mean.
All those things are mandatory for most in today's world.
A few weeks ago another hurdle was thrown into the day and a transport problem was thrown into the equation.
Fortunately I work within a three mile radius and have train stations also within that area to take me out to the nearest city.
With the offer of a few lifts which I refused (as I am fiercely independent!) I pulled my dusty bike out of the shed which had only had one outing in 18 months.
Planning the scenic and safe routes and packing a rucksack off I went slightly concerned I was going to be late for the next client.
Within 3 minutes of cycling I relaxed took in the beautiful English countryside, the sun  was shining, I was getting my daily cardio in without it taking a chunk out of my day and I felt as though the 17 minutes (which I had thought would be more like 30) had given me back an hour of head space…the'helicopter' time of daydreaming, appreciating the world had finally become achievable.I felt immediately mentally fitter as well as physically .
So for the next two weeks I dumped lifts, cycling to the train station for appointments in the town.
Whilst waiting for the train again I found 'helicopter' time..People watching … Achieving more exercise in walking up, down steps and across town, I suddenly felt so liberated and looked forward to travel.
In the last three weeks I have become more organised as I know I have to leave earlier for appointments and if I forget something I can't turn back and at the end of a long day I finally reach home feeling energised from the 17 minute exhilarating cycle ride and not depleted and drained from the work.
I now have a car again and choose not to jump in it and go now. If I did I feel I would be losing some quality time from my day.When I feel like mixing it up I jog in for variety.
I know this option is not available to everyone all the time but I totally recommend whenever you can, DO get down to basics and you will find a little bit of YOU time, as well as improving your fitness.