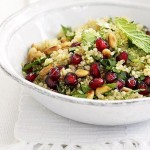 Preparation time 10 minutes
Serves 2 or 4 as a starter
Marinated Tofu and Pomegranate Salad
Super nutritious using Tofu which is a rich source of low-fat protein and a good source of iron.
Method
Add 200g Mixed Leaves to a bowl. Sprinkle with a 160 g pack of marinated tofu pieces, 100g pomegranate seeds and 1 tablespoon of pumpkin seeds.
Add the grated zest and juice of an orange and a drizzle of cold-pressed hemp oil.
Cold-pressed hemp oil contains omega-3-6 and-9 fatty acids good for your heart,skin and hair.
Recipe supplied by Mint Events – www.mint-events.co.uk