Chick Pea Casserole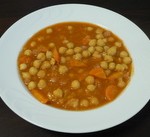 My Barbecue recipes!!
At a recent barbecue I held for my clients I made several accompaniment dishes for the meat.
Many of you asked me for my recipes. These recipes are deep in my store bank of my days when I lived in a Greek Village called Apollona on the island of Rhodes…and a very lovely Greek lady taught me how to cook…. I now reduce the amount of olive oil and leave out the salt but the rest is the same!
Chick Pea Casserole for 6 persons
¾ kilo Chick peas. (soak the night before cooking)
1 medium finely chopped onion
2 tablespoons of Cumin
½ tea cup of olive oil
2 tablespoons of finely chopped parsley
Black pepper
4 cups of liquidised tomato
2 table spoons of tomato Tomato puree
Water
My Style… Throw all ingredients in a casserole dish and add cold water to cover the chick peas and 1 cm higher.
Cook in the oven on a slow medium heat for HOURS until chick peas are soft.
During this time the water will reduce and may need topping up to once again cover chick peas.
When ready the chick peas will be soft and have a nice tomato sauce. READY!
Now you know from my description why I moved on to fitness!!