Almond Breakfast Muesli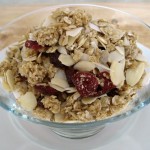 SERVES 8 -10
Prep Time 5 mins
Cook Time 30 mins
Ingredients
1 spray seed oil
100g flaked almonds
4 tablespoons sunflower seeds
2 tablespoons pumpkin seeds
1 tablespoon milled linseed/flaxseed
1 tablespoon sesame seeds
Serve low fat natural greek yoghurt or Milk
1)Preheat oven to 160 Degrees Cent/140 Degrees Fahrenheit
2) Stir together all muesli ingredients, spread on a baking tray and place in oven for 25 to 30 mins until golden brown, stir half way through.
3) Leave to cool completely before storing in an airtight jar.
4) Serve with either Yoghurt or milk and a mixture of berries and banana
*A diet rich in plant foods ie nuts, seeds and vegetables can help to reduce oestrogen. High oestrogen levels can be a contributing factor to heavy and painful periods.