Trout Stuffed with Almonds Spinach and Mushrooms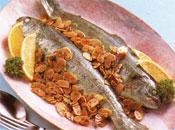 SERVES 4
Prep Time 15 mins
Cooking Time: 20 minutes
Ingredients
4 brown or rainbow trout gutted and cleaned
olive oil spray
For the stuffing
1 Tablespoon olive oil
1 small onion, finely chopped
1 garlic clove,peeled and crushed
100g chestnut mushrooms,chopped
75g baby leaf spinach washed and dried
1 tablespoon chopped parsley
1 tablespoon chopped mint
75g flaked almonds
Freshly ground black pepper
To serve
150g asparagus, trimmed
150g Tender stems broccoli
1)Preheat oven to 180 degrees C/160 Degrees C fan/gas 4
2) Heat the oil in a pan add onion and garlic cook for 3 minutes or just tender. Add the mushrooms and cook for a further 3 to 4 minutes. Add the spinach to the pan and stir until just wilted.
Remove from heat and add the herbs and almonds. Season with plenty of freshly ground pepper and set aside to cool.
3)Evenly fill each fish with the stuffing, securing with some cocktail sticks.
Place the fish on a baking tray lined with foil and lightly sprayed with olive oil spray.Place the trout in the oven and cook for 10 to 12 minutes.
4) While the trout are cooking, steam the asparagus and broccoli for 4 to 5 minutes. Until al dente. Serve with the trout.