Moroccan Spicy Lentil Soup
Moroccan Spicy Lentil Soup
Pulses with Spices for Hearty Economical Vegetarian
Spice it up, add tasty seasonings to dull pulses and you'll get wonderful steaming bowls of soup that even lentil-haters will eat.
This vegetarian lentil soup is an excellent healthy pick-you-up. It's Great for cold days, quick and easy to make if you have unexpected guests and really economical. It even goes down well with non-lentil eaters!
Spicy but not too hot and over-powering it tastes even better the day after but the only way to have enough leftover is to make double the quantity in the first place!
Moroccan Spiced Lentil Soup Recipe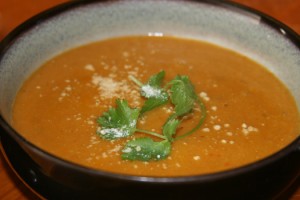 • 1 ½ cups dried brown lentils
• 3 cups chopped onions
• 1.5ltr vegetable stock
• 1 ½ tsps cumin
• ¾ tsp sugar
• ½ tsp salt
• ½ tsp cinnamon
• ¼ tsp allspice
• ¼ tsp paprika
1. Put the stock into a pan and bring it to the boil, add the lentils bring it back to the boil and then reduce the heat and simmer the lentils for 10 minutes.
2. In the meantime, heat the oil and cook the onions until soft and transparent.
3. Add the cooked onions to the pan of lentils.
4. Add all the remaining ingredients, cover the pan and cook for 20 minutes.
5. Health Benefits
6. Lentils, a small but nutritionally mighty member of the legume family, are a very good source of cholesterol-lowering fiber. Not only do lentils help lower cholesterol, they are of special benefit in managing blood-sugar disorders since their high fiber content prevents blood sugar levels from rising rapidly after a meal. But this is far from all lentils have to offer. Lentils also provide good to excellent amounts of six important minerals, two B-vitamins, and protein-all with virtually no fat. The calorie cost of all this nutrition? Just 230 calories for a whole cup of cooked lentils. This tiny nutritional giant fills you up–not out.