Roasted Red Pepper and Tomato Soup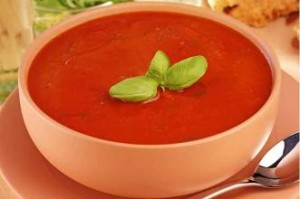 Deliciously filling, low calorie roasted pepper and tomato soup, loaded with nutrients, great for a midday or supper time snack.
Ingredients
4 large red peppers
4 garlic cloves, unpeeled
1tsp dried oregano
6 tbsp water
1 large red onion, peeled and chopped
6 large tomatoes, peeled
850ml (1½ pt) vegetable stock
Half a packet fresh basil leaves
Method
Preheat the oven to 200°C (400°F, gas mark 6). Place the peppers and garlic on a baking tray, sprinkle with oregano and 1tbsp olive oil. Roast for 30-35 mins until the pepper skins are blistered. Place the hot peppers in a plastic bag. When cold, peel and chop the flesh, discarding the seeds.
Heat 6 tbsp of water in a large pan and sweat the onions for 10 mins until softened. Chop the tomatoes, discarding the seeds and add to the pan with the peppers, stock, and a few basil leaves. Squeeze the soft cooked garlic from the cloves and add to the pan. Simmer for 30 mins.
Whizz the soup in a food processor then reheat. Garnish with basil leaves and black pepper and serve.