Clean Recipes
Breakfast Ideas
Banana Smoothie

Bananas are a sweet and delicious tropical fruit and they are a great source of potassium and fiber. Bananas should be kept at room temperature.
Prep Time: 03 minutes
Total Time: 3 minutes
Ingredients:
• 1 Banana
• 4-6 oz almond Milk
• 1 tsp Vanilla pod
• Ice cubes
Preparation:
• Slice the banana right into blender
• Add vanilla
• Add 3 to 4 ice cubes (smaller ice cubes are better)
• Add Almond milk to about 1″ from the top to allow room for expansion and blending.
• Attach the Blending Blade Assembly
• Place on the Personal Blender and blend for about 35 – 45 seconds
• Add to a chilled glass and a straw and enjoy
 Clean Pancakes

SERVES 2-4
100g Rolled Oats
200g Fat free cottage cheese
4 eggs
1 teaspoon cinnamon
Blend the ingredients in a food processor. Pour into a heated pan by the 1/4 cup, cook 2-3 minutes per side.
Serve with your favourite berries.
Almond Breakfast Muesli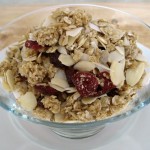 SERVES 8 -10
Prep Time 5 mins
Cook Time 30 mins
Ingredients
1 spray seed oil
100g flaked almonds
4 tablespoons sunflower seeds
2 tablespoons pumpkin seeds
1 tablespoon milled linseed/flaxseed
1 tablespoon sesame seeds
Serve low fat natural Greek yoghurt or almond milk
1)Preheat oven to 160 Degrees Cent/140 Degrees Fahrenheit
2) Stir together all muesli ingredients, spread on a baking tray and place in oven for 25 to 30 mins until golden brown, stir half way through.
3) Leave to cool completely before storing in an airtight jar.
4) Serve with either Yoghurt or almond/rice milk and a mixture of berries and banana
*A diet rich in plant foods ie nuts, seeds and vegetables can help to reduce oestrogen. High oestrogen levels can be a contributing factor to heavy and painful periods.
Lunch Ideas
Winter Veg Soup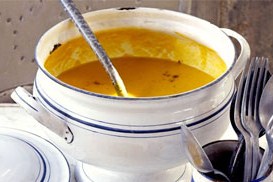 Ingredients
For the base ingredients
• 6 Tablespoons of water
• 1 onion, peeled and chopped
• 1 garlic clove, peeled and chopped
For the aromatics
• 1 bouquet garni
• and/or 1- fresh red chillies, de-seeded and chopped
• or 1 tsp curry powder or cumin,
For the main ingredients
• 1 sweet potato, peeled and cut into chunks
• 500g/18oz vegetables, prepared as appropriate and roughly chopped
For the liquid
• 1-1.5 litres/1¾-2¾ pints) vegetable or chicken stock, or vegetable cooking water.
Seasonings
• salt
• freshly ground black pepper
Preparation
1. Heat the water gently in a large saucepan, then add the base ingredients, the aromatics and the main ingredients. Stir around to coat everything in the onions garlic and chillies, then sweat very gently for 10-15 minutes.
2. Add 1litre/1¾pints of stock or other liquid, saving the rest for thinning down (if necessary), and season with salt and freshly ground black pepper. Bring up to the boil, then simmer gently for about 20 minutes until all the vegetables are tender.
3. Liquidise in several batches, and return to the pan. Thin down with the reserved stock, as required, and check the seasoning
4. Reheat when needed.
Spinach And Chickpea Soup
Ingredients
1 carrot
4 asparagus spears
50g Broccoli
2 Large handfuls of fresh spinach
1 courgette
480ml Organic Chicken or veg stock
20ml water
2 garlic cloves
1/4 onion
Squeeze lemon juice
Basil or other herbs to taste
1 x 400g tin chickpeas
Preparation
Steam carrot,asparagus,broccoli,spinach and cougette over a pan of boiling water for 5 mins.
Blend all the ingredients together except the chick peas until the desired consistency is reached, then add chickpeas
Transfer to a pan and heat through until the soup is just about to simmer then serve.
Spelt Bread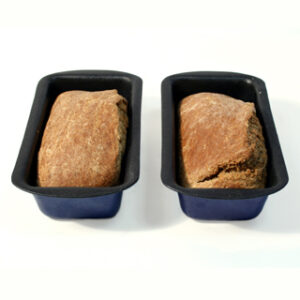 Spelt Bread digests faster and easier than wheat and is along with Rye bread becoming the superfood of breads.
Here is an easy quick recipe. Delicious with one of my home made soup recipes.
500g Spelt Flour
10g Fast acting dried yeast
1/2 Teaspoon salt
50g Sunflower seeds
50g Sesame Seeds
50g Linseed
500ml Warm water
Preparation
Heat the oven to 200 Degrees c/400 degrees F/gas Mark 6
Mix all the ingredients in a large bowl,adding the water last.Mix well(but don't knead like traditional bread) until it has a dough like consistency.
Put it into a greased loaf tin
Bake in the oven for an hour
Remove the loaf from the tin and place back into the oven without the tin for a further 10 mins.
Ready!
Turkey Burgers with Portobello 'Bap'
Ingredients
serves 4
400g Turkey Mince
Juice of 2 limes
4 lemongrass sticks
fresh black Pepper
Spring Onions finely chopped
Portabello Mushrooms 2 tops to use as the 'bap'
Preparation
Preheat the grill to 180 degrees c/350f gas mark 4
Put all the ingredients into a bowl and mix together. Cover and put in the fridge to marinate/infuse for 30 mins to 1 hour
Remove the burger mix from the fridge and shape into patties.Place under the grill for 6 – 8 minutes each side,  Time varies depending on the size of the burger.
Grill the portabello Mushrooms  and serve Burger between them.
Accompany with roasted vegetables
Roasted Red Pepper and Tomato Soup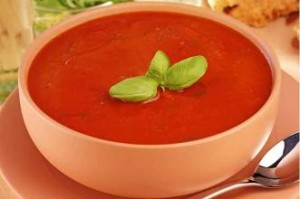 Deliciously filling, low calorie roasted pepper and tomato soup, loaded with nutrients, great for a midday or supper time snack.
Ingredients
4 large red peppers
4 garlic cloves, unpeeled
1tsp dried oregano
6 tbsp water
1 large red onion, peeled and chopped
6 large tomatoes, peeled
850ml (1½ pt) vegetable stock
Half a packet fresh basil leaves
Preparation
Preheat the oven to 200°C (400°F, gas mark 6). Place the peppers and garlic on a baking tray, sprinkle with oregano and 1tbsp olive oil. Roast for 30-35 mins until the pepper skins are blistered. Place the hot peppers in a plastic bag. When cold, peel and chop the flesh, discarding the seeds.
Heat 6 tbsp of water in a large pan and sweat the onions for 10 mins until softened. Chop the tomatoes, discarding the seeds and add to the pan with the peppers, stock, and a few basil leaves. Squeeze the soft cooked garlic from the cloves and add to the pan. Simmer for 30 mins.
Whizz the soup in a food processor then reheat. Garnish with basil leaves and black pepper and serve.
Dinners
Almond Stuffed Trout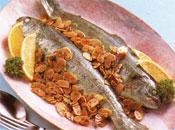 SERVES 4
Prep Time 15 mins
Cooking Time: 20 minutes
Ingredients
4 brown or rainbow trout gutted and cleaned
olive oil spray
For the stuffing
1 Tablespoon olive oil
1 small onion, finely chopped
1 garlic clove,peeled and crushed
100g chestnut mushrooms,chopped
75g baby leaf spinach washed and dried
1 tablespoon chopped parsley
1 tablespoon chopped mint
75g flaked almonds
Freshly ground black pepper
To serve
150g asparagus, trimmed
150g Tender stems broccoli
1)Preheat oven to 180 degrees C/160 Degrees C fan/gas 4
2) Heat the oil in a pan add onion and garlic cook for 3 minutes or just tender. Add the mushrooms and cook for a further 3 to 4 minutes. Add the spinach to the pan and stir until just wilted.
Remove from heat and add the herbs and almonds. Season with plenty of freshly ground pepper and set aside to cool.
3)Evenly fill each fish with the stuffing, securing with some cocktail sticks.
Place the fish on a baking tray lined with foil and lightly sprayed with olive oil spray.Place the trout in the oven and cook for 10 to 12 minutes.
4) While the trout are cooking, steam the asparagus and broccoli for 4 to 5 minutes. Until al dente. Serve with the trout.
Chick Pea Casserole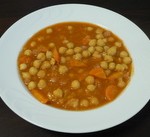 My Barbecue recipes!!
At a recent barbecue I held for my clients I made several accompaniment dishes for the meat.
Many of you asked me for my recipes. These recipes are deep in my store bank of my days when I lived in a Greek Village called Apollona on the island of Rhodes…and a very lovely Greek lady taught me how to cook…. I now reduce the amount of olive oil and leave out the salt but the rest is the same!
Chick Pea Casserole for 6 persons
¾ kilo Chick peas. (soak the night before cooking)
1 medium finely chopped onion
2 tablespoons of Cumin
½ tea cup of olive oil
2 tablespoons of finely chopped parsley
Black pepper
4 cups of liquidised tomato
2 table spoons of tomato Tomato puree
Water
My Style… Throw all ingredients in a casserole dish and add cold water to cover the chick peas and 1 cm higher.
Cook in the oven on a slow medium heat for HOURS until chick peas are soft.
During this time the water will reduce and may need topping up to once again cover chick peas.
When ready the chick peas will be soft and have a nice tomato sauce. READY!
Now you know from my description why I moved on to fitness!!