Are some of you are thinking about putting in preparations for 'The Beach body?'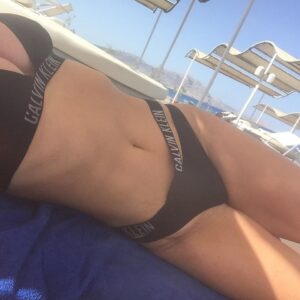 Hey so what! We are not looking or feeling like a supermodel yetand yes there is always going to be someone sitting by that we admire their shapely legs,flat tum whatever.
We are what we are after trying to follow a healthy and fun lifestyle,so enjoy that holiday.
I have made a list of just seven things you can do to feel nice on the beach leading up to that well hard worked for/earned much needed holiday.
1) I know I have banged on about it before and you should have been doing it all along. DRINK LOTS OF WATER.If you struggle to drink the required average 2 litres then try replacing your hot drinks with hot water and a slice of lemon.This can help speed up a sluggish digestive system, eliminate toxins,clean internal waste and give you more energy and the big one.A flatter tum!
2) Practice your posture.Good posture makes you appear taller and slimmer.Focus especially on sitting posture.Correct sitting helps the digestive system and reduces the chances of becoming bloated.You will also be keeping the tummy and back strong after those weeks of fab abs workouts
3)Find a good healthy eating plan and ditch the Caffeine,Refined foods,Processed and alcohol they will all sabotage fat loss.
4)Ditch the foods that retain water,grains like bread,rice,pasta,cakes and biscuits.These foods tend to hold water in the gut. Being an IBS sufferer for years and learning to control it by not eating my trigger foods which for me one being not eating fruit after a meal.Keeping food diaries you can see what maybe your bloated trigger foods.
5) Workout wind up.So you are busy packing for the family,no time to fit that workout in? Wrong! If you have trainers get them on and do 15 mins of power walk intervals the road.
Jog or sprint intervals down to the end of the street and back or around the garden.
We can almost all of us find a 15 minute break twice in the day so be ready mentally and get down on a 15 minute mini circuit quickly moving from squats
6)If you do find yourself with a free hour for a class or personal training session,try an hour of Yoga,it will de stress you with all that last minute preparation lower your cortisol levels, leave you feeling super toned and teach stress busting techniques you can easily use 10 minutes each morning whilst you are away to set you up for the day during your holiday.
7) Finally relax and enjoy.Worry and anxiety about how we shape up compared with the next supermodel on the beach is not what health and fitness is all about.Kick back,chill and you are far more likely to be more active than when you are focusing totally on being Elle Macpherson or Matthew Mconaughey.Get up play with those beach balls,walk along the sand and make a splash.You have arrived.