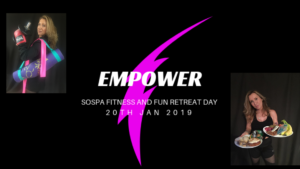 Join the SoSpa team for a New Year boost!
2019 BUZZ WORD IS EMPOWER!
With anxiety and stress being the hot topic of 2018 we want to support and show you stress and anxiety busting techniques to empower you and offer you a support network to boost
motivation & confidence & reduce sabotaging your healthy eating and fitness goals in 2019 encouraging overall better health.
The Timetable :
8.30 Guests arrive for the day retreat.
9.00 -9.45 Energiser power walk through beautiful woodland.
10.00-10.30 Refreshment break
10.30-11.15 Fun functional fitness with Elias
11.30-12.30 Empowerment presentation
12.45-13.30 Boxercise with Jude & Elias
13.30-15.00 So Lean and Clean lunch & relaxation
15.00-16.30 Yogailates & 2019 Intention Meditation
16.30-17.00 Refreshments & weight loss Q & A
Event ends at 1700hrs.
Lunch will be a 3 course buffet menu based on the So Lean And Clean plan.
See sample menus below.
FAQ'S
Q:What level of fitness do I have to be?
A: Our super trainers are able to work with all levels if fitness and prior to the event we will send a health questionnaire out to you so that we can offer you the very best expert advice and experience.
Q:I have special dietary requirements. Can you accommodate?
A: Yes again we will ask this and we will meet your requirements.
Event Address:
The Nook
Lower Way
Upper Longdon
Rugeley
Staffs..
WS15 1QG
We would love meet you!
Ticket price £75. (Early booking offer- Bookings taken before 23rd December £65.00)
Please follow the link below to book.
See below for more SoSpa Dates. We add more to these throughout the year.
2019 dates for SoSpa Fitness Escapes.
Wednesday June 5th – June 12th 2019 -7 nights
Wednesday June 5th – June 16th 2019- 10 nights
Wednesday September 18th- September 25th 2019 – 7 Nights
Price £2490.00 p/p
10 Night stay = £3390.00
Deposit £350 for 7 nights
Deposit £500 for 10 nights
Past Clients Loyalty rewards. A further £100.00 from the above price.
Refer a friend who has never been on a SoSpa holiday before and receive a £100 voucher towards your own booking .
ATOL PROTECTED
Here's what's included:
Accommodation and Flights
All meals in excellent local taverna's or restaurants
All fitness classes, Yoga , Pilates, Aqua, Power walk, jogging (bespoke to the group)
A Skype personal consultation pre holiday
Local airport transfers from Rhodes to resort return via private taxi
24/7 Holiday Rep/Personal Trainer
21 Days access to the So Lean And Clean online lifestyle plan prior to the holiday.
*Excursions to Rhodes Old Town or the local Spa extra if requested.
*Above price is based on two people sharing . Single person supplement plus £100.00
*Flight prices are based on Uk flights. For overseas clients prices will vary.
Any queries please do not hesitate to ask.
Yours in health & fitness
Gail and the SoSpa team